Top Web Design Company in Salt Lake City, UT
Strengthening your online presence starts with leaving a good first impression, and a reliable web designer in Salt Lake City can help you do just that.
Advanced Digital Media Services is an expert web design company in Salt Lake City that provides technological solutions specifically tailored to your needs. From conceptualizing design ideas that match your brand's voice to highlighting important company features, our team has the level of experience, technical expertise, and creativity you need in building brand awareness and creating a strong online platform.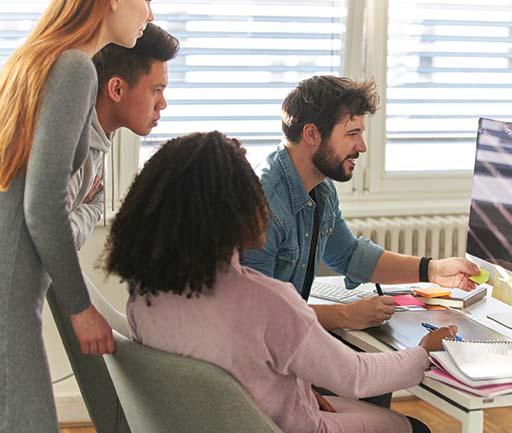 What Are the Benefits of Availing Our Web Design Services in Salt Lake City?
Your business is the realization of your dreams. It is the fruit of your hard work and the reflection of your drive and passion. This is the very reason why it deserves more than just a free web design template that any other site operating under the same business model could choose.
Our team gives life to your vision by providing you unique concepts that can give your site a voice and persona that perfectly matches you and your business. While the technical expertise of our website designer in Salt Lake City is already without reproach, what makes our team extra special is our commitment to designing a site that is in line with your business objectives. In the digital age, where everything can be a blur of similar competing pages, our team is here to ensure your voice is heard.
It's no secret that usability is the key to winning the game of optimization, and a huge part of that is loading speed. Nobody likes waiting on slow-loading pages, not even you. Your audience won't stick to your site when it's running at a snail's pace, instead giving their business to someone else.
Patience is not really the virtue of online users, and neither is it for Google's algorithms. The slower your site loads, the quicker it is for your ranking to plunge, rendering your site less discoverable. Our web design company in Salt Lake City uses tools that allow your site to perform faster and better to ensure you don't suffer this fate.
Enriched Navigating Experience
A clean and professional-looking website can make a good first impression, but it's the user's navigating experience that makes the largest mark in the hearts of your customers. When your site is filled with broken links and other dysfunctional buttons and features, there's no stopping your audience from leaving your page for good.
More than aesthetics, your website should not lose focus on one important element that separates a great site from the rest: functionality. Our web design services in Salt Lake City do not stop at designing a clean, business-centered site. It just starts there. We create a cohesive website that improves your user's navigating experience so you can develop your audience engagement and attract brand loyalty.
Functionality and Reliability Rolled into One
At Advanced Digital Media Services, we believe that your site should be like a smooth-flowing river that only goes in one direction: success. Our team is here to anchor you there by providing you a minimalist, fully functional website that doesn't welcome your audience with broken links and error pages.
We ensure your site works 100% so your online visitors won't leave annoyed and frustrated. If that isn't worth the investment, we don't know what is.
Web Designing Services in Utah
At Advance Digital Media Services, we provide website designing services to any company in any city or town in the United States or the Caribbean that we choose to work with. We have chosen to target specific markets and have therefore created a "target page" for those specific markets. One of the most important tasks we take on to rank your website for your targeted keywords is to create a "target page" that sells one service in one area, and then create high-quality backlinks to that specific page(s). So, we not only provide website designing services to the City of Salt Lake City, Utah but to all of the cities listed below.
Top 10 reasons to do business with ADMS
We look forward to hearing from you today.
"*" indicates required fields
Schedule a call To see if we may be a fit for your online digital goals.