Top Web Design Services in West Valley City, UT
Beauty may be in the eye of the beholder, but one thing is for sure: nobody wants a busy and messy website.
Advanced Digital Media Services is a web design company in West Valley City that can ensure your site doesn't fall into this category.
With technical skills, creativity, and experience as our main credentials, our expert design team brings power to your brand so you can increase audience engagement and build brand loyalty in the long term. Together, we can make your first impression a good and lasting one.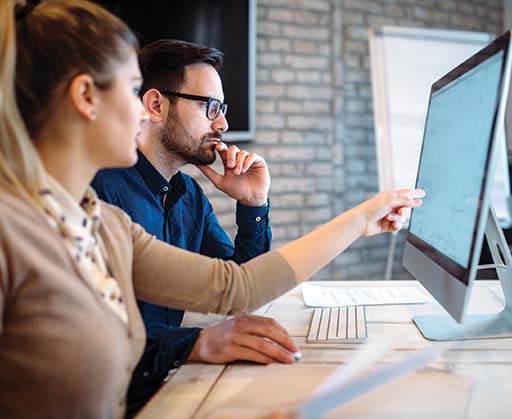 Why Work with Our Website Designer in West Valley City?
Unique, Professional Touch
When you stumble upon a lousily dressed entrepreneur who claims that he can help you find business opportunities, will you trust him right then and there? It's basically the same with web design and development. Trust may be built over time, but it's definitely easier to trust a well-dressed, professional-looking site than a busy, overwhelming webpage filled with advertisements. That's where our web designer in West Valley City comes in.
Our web design team can help you groom your site according to your brand's voice. We brush away unnecessary features that can distract your audience so they have the best navigating experience you can possibly give them, which can lead to more site revisits. With our comprehensive and fashionable web design services in West Valley City, you can find your voice and create a clean, professional site that screams credibility and reliability.
When it comes to building an online platform, breakthrough services and products go behind searchability. Because Google's algorithms prioritize user-friendliness, it's critical to find a website designer in West Valley City who can help you build a site that's an A+ in both aesthetics and SEO-friendliness.
Advanced Digital Media Services continuously strives to help you achieve your business goals by giving you the right tools. In this case, that's a fully optimized site that won't get buried under other webpages. We want you at the top of the search engine results pages and can build a site that will get you there.
Gaining maximum visibility takes time, but with our help, you can shorten the wait and get an enormous ROI through increased visibility and sales.
Your site's compatibility with different sets of gadgets can be your way to reaching a larger audience. With a high percentage of mobile users contributing to browsing and searches, it's a huge mistake not to optimize your site for mobile and other non-desktop devices. Your pages should be viewable no matter the screen size.
Our web design services in West Valley City use a holistic approach in helping you gain maximum visibility. With our help, your audience won't have a hard time accessing and viewing your site, whether they're on their phone, a PC, or a tablet.
More access and more flexibility: That's our guarantee!
Merging Aesthetics with Efficiency
Your site shouldn't be just another beautiful face on the Internet. It should also be equipped with all the features your users are looking for. Right at the planning stage, our expert team puts functionality and efficiency into play so you can protect your site from unpleasant user experiences and lower ranking.
We put the right buttons in the right corners of your page so your users can easily navigate your site while you build a higher SEO ranking, which is a win-win for everyone. Contact Advanced Digital Media Services to get started.
Web Designing Services in Utah
At Advance Digital Media Services, we provide website designing services to any company in any city or town in the United States or the Caribbean that we choose to work with. We have chosen to target specific markets and have therefore created a "target page" for those specific markets. One of the most important tasks we take on to rank your website for your targeted keywords is to create a "target page" that sells one service in one area, and then create high-quality backlinks to that specific page(s). So, we not only provide website designing services to the City of West Valley City, Utah but to all of the cities listed below.
Top 10 reasons to do business with ADMS
We look forward to hearing from you today.
"*" indicates required fields
Schedule a call To see if we may be a fit for your online digital goals.