Excellent Web Designer in Curacao
Hiring a skilled web design company in Curacao guarantees a professionally designed website that's not only aesthetically pleasing but also renders function and the right information to your clients and vistors.
With numerous tools available on the internet, many business owners consider designing their own websites. As much as it is possible to design a website yourself, hiring a professional helps establish the credibility of your business.
One of the best ways for prospective clients or customers to get to know your business more is by visiting your website. Many people want to see attractive and professional designs, and that is how they judge credibility. For that reason, hiring a skilled website designer in Curacao should be a priority.
ADMS is a trusted web design company in Curacao. We provide top-notch web design services for all business owners wanting to grow their businesses. Our creative web design team boasts of the know-how in designing websites which offer aesthetic functionality.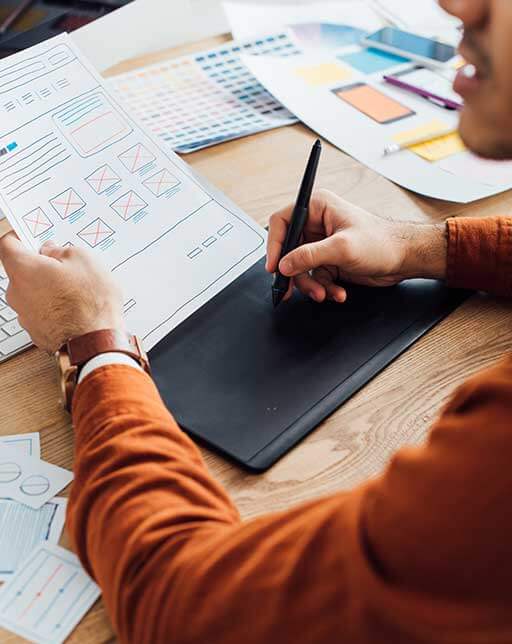 What the Best Web Designer In Curacao Offers
Before conceptualizing a design at ADMS, we ask every client about their intentions for their websites. Whether you want a website for e-commerce, lead generation, or other purposes, our web designer in Curacao have the needed skills and know-how to produce beneficial results.
After knowing the purpose you want your website to serve, that is when we start designing. This is what sets us apart from other companies. Not only do we design visually attractive websites, but we also ensure that they are appropriate for the purpose they are built for.
2. Effective Color Schemes and Content Hierarchy
Another thing we provide is the effective use of design tools to convey your message to your website visitors effectively. The first one is the utilization of proper color schemes. We make sure that the colors we use are the ones that best represent your business.
Additionally, we design with a consistent content hierarchy. We emphasize the most essential information, which internet crawlers are most probably looking for. This, in return, causes prospects to stick around your website.
When it comes to navigation, we focus on the user experience. We want your visitors to experience convenience while navigating through your website as this can lead to higher conversion rates.
Our website designer in Curacao is knowledgeable about the effective utilization of different navigation tools. Whether a search bar or a menu bar is needed, we guarantee that your prospects will experience seamless navigation once they visit your website.
4. Regular Assessment and Maintenance
As a web design company in Curacao, we provide a thorough assessment of your website. This is to ensure that your website still keeps up with the regular changes in Google's algorithms. If there is anything in the web design that needs improvement, we take the necessary course of action.
Since rankings on search results change from time to time, having a digital marketing company provide your website with all the updates needed helps secure good ranking.
Websites designed by experts stand out when compared to the volume of websites on the internet.
To ensure that your business website stands out as well, consider getting web design services in Curacao. For more inquiries about our services, do not hesitate to give us a call.
Web Designing Services in the Carebbian
At Advance Digital Media Services, we provide website designing services to any company in any city or town in the United States or the Caribbean that we choose to work with. We have chosen to target specific markets and have therefore created a "target page" for those specific markets. One of the most important tasks we take on to rank your website for your targeted keywords is to create a "target page" that sells one service in one area, and then create high-quality backlinks to that specific page(s). So, we not only provide website designing services to Curacao in the Caribbean but to all of the cities listed below.
Top 10 reasons to do business with ADMS
We look forward to hearing from you today.
"*" indicates required fields
Schedule a call To see if we may be a fit for your online digital goals.