Web Designers in the Dominican Republic
Make your business website an exceptional one by hiring skilled web designers.
In countries like the Dominican Republic, running a business can get challenging. Its fast-growing economy is attractive, with so many competitors already present and investors waiting for the right opportunity to start their businesses. The competition gets tighter with each passing day.
If you own a business in the Dominican Republic or are planning to start one, marketing should be a priority with so much competition around.  Aside from traditional marketing strategies, one of the most effective ways to increase sales and business exposure is through digital marketing.
Having a well-designed business website gives your business an edge and yields many benefits; a professional-looking website can make a good impression on prospective clients that may transform into sales for your business.
At Advanced Digital Media Services, we provide top-notch web design services in the Dominican Republic for businesses eyeing growth or development. Our team of skilled web designers provides designs with purpose and aesthetics.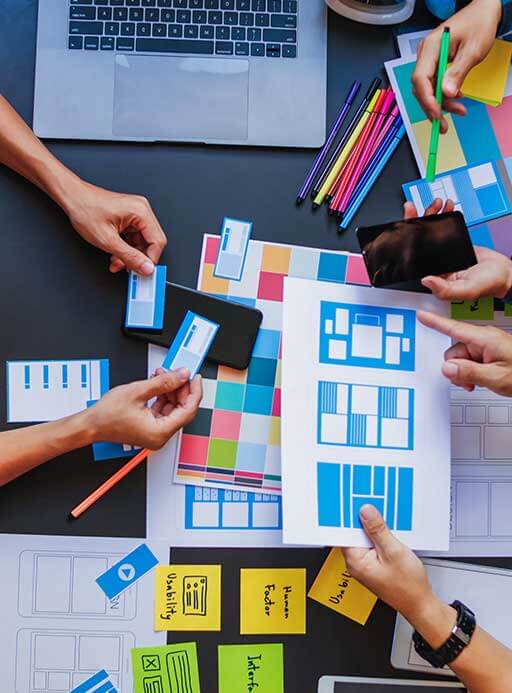 Why Hire a Web Designer in the Dominican Republic?
Visual hierarchy is essential in web design. It is the arrangement of elements based on their importance. It uses colors, styles, layouts, images, and other design strategies to establish a focal point with the most important information that draws website visitors.
Our web designer in the Dominican Republic knows the ins and outs of web design. Expect them to emphasize and highlight the most important information on your website to make it easier for prospective clients to find the answers to the questions they have in mind.
We make sure to create websites with easy navigation; it is proven that internet users are more likely to stick around a website that's easy to navigate. As one of the leading web design companies in the Dominican Republic, we build user-friendly websites that improve conversion rates and decrease bounce rates.
Aside from visual hierarchy, we also use other tools such as search and menu bars for hassle-free navigation, making it easier for prospects to view your website's contents.
3. Improved Ranking and Searchability
It is difficult to land a good ranking on search results with a poorly designed website. Many business owners try to design websites on their own; however, investing and hiring a website designer in the Dominican Republic remains the best option.
Google rewards websites that are professionally built and designed. There is no better way to achieve this than hiring a digital marketing company to do the job for you. At ADMS, we guarantee that you'll find your business website among the top rankings.
4. Mobile-Friendly Design
Advancements in technology made mobile phones and tablets a convenient way to surf the net. According to statistics, more than 70% of Americans use their mobile phones or tablets to look for products and services on the internet.
With our services, there is nothing to worry about. We design websites that are mobile-friendly and desktop-friendly. Whether your prospects use laptops or phones, you can rely on your website to work on any device when you choose a web design company in the Dominican Republic to design it for you.
Let Advanced Digital Media Services Help You
For inquiries about services, feel free to reach out to us. Give us a call today, and start working with our web designer in the Dominican Republic to establish your presence online.
Web Designing Services in the Carebbian
At Advance Digital Media Services, we provide website designing services to any company in any city or town in the United States or the Caribbean that we choose to work with. We have chosen to target specific markets and have therefore created a "target page" for those specific markets. One of the most important tasks we take on to rank your website for your targeted keywords is to create a "target page" that sells one service in one area, and then create high-quality backlinks to that specific page(s). So, we not only provide website designing services to Dominican Republic in the Caribbean but to all of the cities listed below.
Top 10 reasons to do business with ADMS
We look forward to hearing from you today.
"*" indicates required fields
Schedule a call To see if we may be a fit for your online digital goals.