The Most Creative Web Design Services in Cleveland
Web design plays a significant role in every online business entity.
It gives a face and a distinct voice to a brand, making it a major extension of most marketing campaigns. However, while a creatively designed website can help you achieve brand awareness, a thoughtless design process can also hurt you in more ways than one.
Geared toward giving your site visual power, our web design company in Cleveland mixes traditional and edgy design concepts so you can attract a larger audience. With the help of our creatives, you can successfully market your brand using the right aesthetics.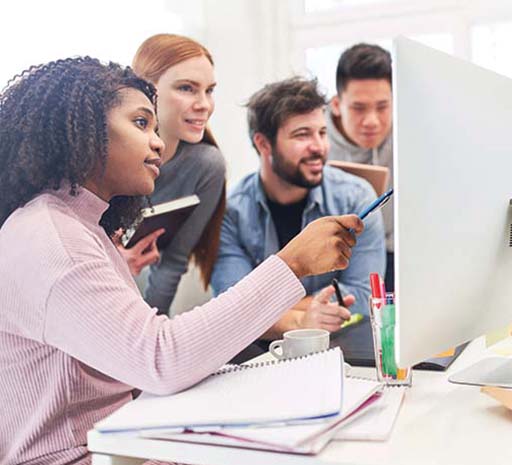 What Are the Benefits of Working with our Web Design Company in Cleveland?
Better Structure and Flow
Poor aesthetics are always bad for business. Building a website that lacks structural design elements is the best way to create a bad impression, and one way you can do so is by resorting to free web design templates filled with visual noise, which is both disruptive and disappointing to users.
When your target users check your page, you want them to see structure and flow through a simple and highly functional design concept. Our web designer in Cleveland is an expert in finding the best features that match your brand so you can boost navigating efficiency.
An equally important factor that sets our team apart is our attention to detail. During our design process, we focus on minimizing visual noise in your site by eliminating non-essential features that can distract your audience. This way, we can help you create a cohesive website that helps users easily find the right buttons and links as they explore your pages.
Aside from providing an elevated user experience, high-ranking sites also have one thing in common: they never let users land on pages with error messages because they know that dysfunctional sites can never build brand credibility. When your site is filled with broken links, you're giving your users reasons to doubt you, which inevitably leads to mistrust.
Our web design company in Cleveland understands your need to build credibility, and this is why we always put reliability first in all our design projects. From conceptualization to execution, our team checks your site for any errors that can result in significant traffic loss.
Your site's ability to respond to different gadgets can bridge you to better marketing opportunities, especially since most users switch between using laptops and smartphones on the regular.
In response to your need for device compatibility, our website designer in Cleveland utilizes design strategies that aim to make your site responsive to both desktop and non-desktop devices.
From one-page layouts to flat designs, our team expertly uses minimalist elements that look great on any type of screen. This way, you can clearly send your message to your audience without sacrificing aesthetics or functionality.
A successful website captures the essence of the brand it carries, and that's our goal for your site, too. Instead of using generic web layouts that can portray your brand in a bad light, our web design services in Cleveland include meticulous steps that help us give your brand a sense of identity. Through our in-depth industry research and brand analysis, we can highlight your brand's voice so you can reach a finely defined audience that's already interested in what you have to offer, even ready to buy.
Web Designing Services in Ohio
At Advance Digital Media Services, we provide website designing services to any company in any city or town in the United States or the Caribbean that we choose to work with. We have chosen to target specific markets and have therefore created a "target page" for those specific markets. One of the most important tasks we take on to rank your website for your targeted keywords is to create a "target page" that sells one service in one area, and then create high-quality backlinks to that specific page(s). So, we not only provide website designing services to the City of Cleveland, Ohio but to all of the cities listed below.
Top 10 reasons to do business with ADMS
We look forward to hearing from you today.
"*" indicates required fields
Schedule a call To see if we may be a fit for your online digital goals.