The Best Web Design Company in Rocky River, OH
Web design gives power to your digital platform.
It is a potent communication tool that professionalizes your brand and bridges you to a wider audience. However, while it can help you turn business potentials into a reality, it can also negatively impact your image, especially when creativity and professionalism are missing from your web design process.
Advanced Digital Media Services ensures that your message cuts through barriers between you and your customers by helping you create a website that mirrors your brand. Our web designer in Rocky River grooms your platform and keeps it unique by including you and your original ideas into the design process.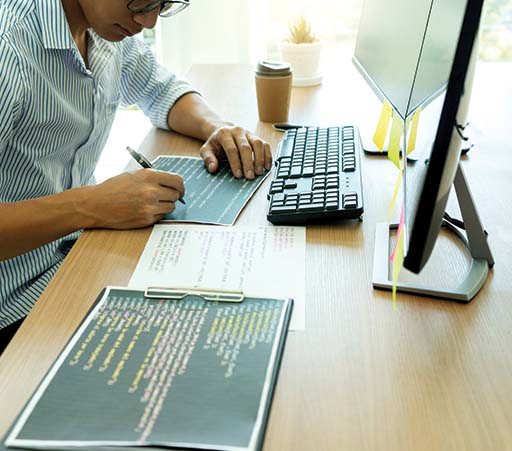 Why Avail Our Web Design Services in Rocky River?
Intuitive, High-Converting Design
It's only a matter of seconds for your audience to decide to stay on your site or leave. You want to make those seconds count by presenting your brand in a professional manner — and our web designer in Rocky River can do that for you.
As a web design team, our goal is to place your brand center stage, and we accomplish this by using professional and functional design elements. Instead of focusing on aesthetics alone, we carefully conceptualize a design that fits your brand, conveys your message, and gives your audience the features they need. By using minimalist elements that can give you a clean and easy-to-navigate page, your audience can find and hit that "buy now" button the instant they want it.
Multiple Device Compatibility
Great web design concepts can't go far without device compatibility and responsiveness, especially now that most online users consistently switch between laptop and mobile phone use. When a visitor browses through your page, you want the best navigating experience to encourage them to stay and learn more about your services.
Centered on helping you maximize your earning potential, our web design Company in Rocky River helps you reach both desktop and non-desktop users without sacrificing important factors like loading speed and responsiveness. We use a minimalist approach in our web design process, which positively impacts user experience regardless of the device your audience uses.
Your brand deserves more than just a design template that anyone, including your competitors, can download and use themselves. When you put your business out there, you want it to stand out for all the right reasons, and that includes a great design concept that matches your vision for your brand.
When you hire our website designer in Rocky River, you're protecting your brand's identity by making sure that your site gets the personal touch it needs. Merging beauty and function, our team is dead set on understanding the intricacies of your brand before putting design concepts in perspective. We believe that each business has its own story to tell, and to narrate it successfully, we include you in the design process.
It's no secret that web design plays an important role in making your platform visible and navigable on the internet. More than just the visuals, our web design services in Rocky River integrate fresh and innovative SEO practices in our design process so you can give your users a hassle-free navigating experience, which can consequently help you in outranking your competitors.
Web Designing Services in Ohio
At Advance Digital Media Services, we provide website designing services to any company in any city or town in the United States or the Caribbean that we choose to work with. We have chosen to target specific markets and have therefore created a "target page" for those specific markets. One of the most important tasks we take on to rank your website for your targeted keywords is to create a "target page" that sells one service in one area, and then create high-quality backlinks to that specific page(s). So, we not only provide website designing services to the City of Rocky River, Ohio but to all of the cities listed below.
Top 10 reasons to do business with ADMS
We look forward to hearing from you today.
"*" indicates required fields
Schedule a call To see if we may be a fit for your online digital goals.