While it may be tempting to use a template to make your website, why risk having this important facet of your business look the same as several other sites?
By using our services as a web developer in Aurora, Denver, you can have a quality web design created that can achieve higher search engine ranking. You will also have room for development and learn how to improve your site by monitoring web analytics.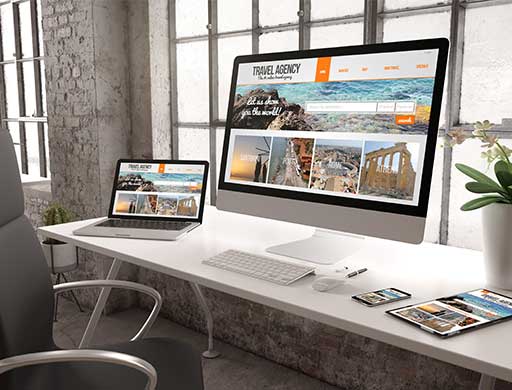 Here is what you can get from our web developing service
One of the most important aspects of having a website is to ensure it is easy to navigate. While a template may look like it will work fine at first, it may not be suited to properly display the message of your brand. While it may be convenient to use the drag-and-drop features that are provided by this type of website builder, your site will look generic and probably not spark much enthusiasm with a potential customer.
First impressions are crucial when you're trying to compete online. If your website doesn't stand out with a unique, customized design, your business may not look as professional as competitor websites, and you'll end up losing potential sales. For the best results, utilize our skilled developers that can create a fantastic looking website that's customized for your company.
Higher Search Engine Ranking
Free doesn't always mean that it provides good value. You may not even be able to modify the templates that free website building platforms offer you.
Another solid benefit of utilizing Advanced Digital Media Services as a web developer in Aurora, Denver, is the high search engine ranking that your website can achieve. When your website is professionally coded by a skilled developer, it helps create a beautiful looking website that has also been fully optimized to provide excellent search engine results.
Learning from Your Web Analytics
You can learn a great deal from your web analytics. The information taken from this useful tool can be used to increase the effectiveness of your website. When you're using a free template, it may not be able to provide you with this valuable information. By reviewing your analytics and homing in on specific results, you can incorporate them into your marketing strategies, which may help you increase sales.
If you want to create a website that looks unique and stands out from the competition, you'll need to utilize a trained developer. This also gives you a way to add extra apps or other components if you need them for your business. This won't be so easy to do if you attempt to use a free template. Template websites lock you into a design that is generic and easy to spot, and It doesn't exude trust or credibility as much as one that has been modified by an expert.
As a web developer in Aurora, Denver, our web development team can assist you in understanding all the data that's being generated.
You'll learn where it's best to focus on new work so that your website stays successful and helps generate even more profits.
Web Development Services in Colorado
At Advance Digital Media Services, we provide website development services to any company in any city or town in the United States or the Caribbean that we choose to work with. We have chosen to target specific markets and have therefore created a "target page" for those specific markets. One of the most important tasks we take on to rank your website for your targeted keywords is to create a "target page" that sells one service in one area, and then create high-quality backlinks to that specific page(s). So, we not only provide website development services to the City of Aurora, Colorado but to all of the cities listed below.
Top 10 reasons to do business with ADMS
We look forward to hearing from you today.
"*" indicates required fields
Schedule a call To see if we may be a fit for your online digital goals.