Top-Notch Web Developers in Castle Rock, CO
If you own a business, then you have probably heard about web development and how a properly built and curated website can change the game for you.
With almost everything shifting online, it is a must that your business also makes that transition. Otherwise, your competitors are going to leave you behind.
If you are looking for experts and professionals who can help you start your digital transformation, then Advanced Digital Media Services' website developers in Castle Rock, CO are perfect for the job.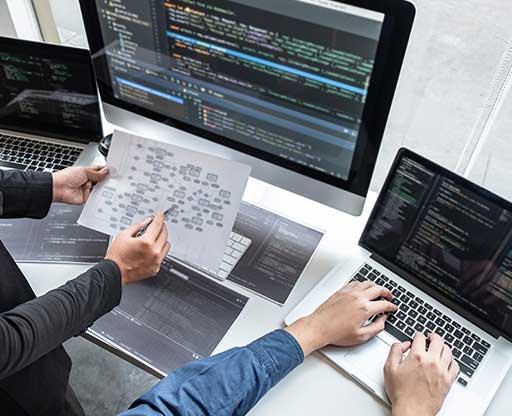 Why Avail Our Web Development Services in Castle Rock, CO?
Advanced Digital Media Services is a web development company in Castle Rock, CO that is equipped with the state-of-the-art technology needed for completing large-scale projects for big and small brands alike, providing the best client experience. We are trained to accommodate clients of all sizes and cater to any kind of target market. For as long as you are in need of a team of web developers in Castle Rock, CO, we are ready to assist you in establishing your online presence.
We are a web development company in Castle Rock, CO with over 30 years of experience in the field of custom website development. We have worked with numerous companies from multiple industries and have taken on projects with different levels of difficulty. Because of the breadth of our experience in our profession, we have been able to train the best talents on different services, including website development, website design, and search engine optimization. Whether the projects are on the front or back end, you get a fully stacked team of professionals on your side.
Periodic Assessment and Maintenance
As your partners, we understand that there are other important aspects of your business that you need to attend to. As such, we ensure that you no longer have to worry about your website. We conduct periodic assessments and maintenance to confirm that it is fully optimized, continues to function properly, and is up to date. Depending on our assessment, we will make any necessary improvements to your website. We will also keep you updated with the results, especially on certain key metrics like loading speed and conversion rates.
Our web developers in Castle Rock, CO understand that your customers have to be the number one consideration in everything we do. How we structure the website and what themes we use depend on what consumers want or find appealing. This is especially true with your website's navigation and interface. Customers who have a bad experience will most likely not visit it again. As such, we also strive to develop a website that is user-friendly, attractive, and pleasantly easy to navigate.
Web Development Services in Colorado
At Advance Digital Media Services, we provide website development services to any company in any city or town in the United States or the Caribbean that we choose to work with. We have chosen to target specific markets and have therefore created a "target page" for those specific markets. One of the most important tasks we take on to rank your website for your targeted keywords is to create a "target page" that sells one service in one area. and then create high-quality backlinks to that specific page(s). So, we not only provide website development services to the City of Castle Rock, Colorado but to all of the cities listed below.
Top 10 reasons to do business with ADMS
We look forward to hearing from you today.
"*" indicates required fields
Schedule a call To see if we may be a fit for your online digital goals.