The Most Reliable Web Development Company in Westlake, OH
One tried and tested way of generating more profits for your business is advertising and selling online.
The popularity and wide usage of social media platforms have made it easier to entice users to buy. However, to facilitate these kinds of transactions, it is important for a business to have a website. Ideally, this is where all the information the customer needs can be found, and in today's internet-driven market, it is where much of your sales will be made.
Our team of website developers in Westlake have helped in building several websites for different clients and their unique visions. We offer web development services in Westlake that are not only geared toward building a website for your business but also for us to be your partner through every step on your path to success.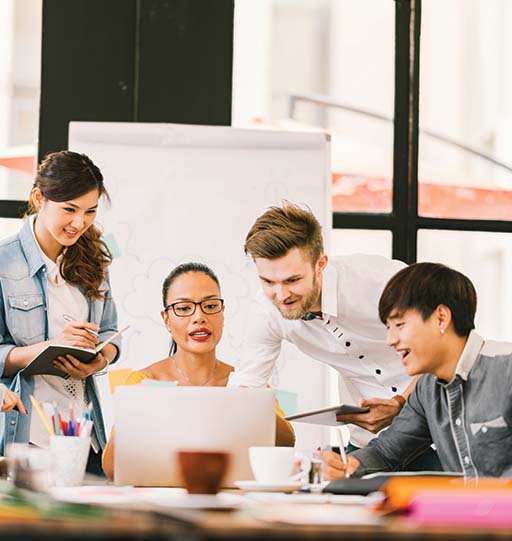 How Can Our Website Developers in Westlake Help Your Business Grow?
Up to Date Website Aesthetics
With the attention span of the modern user shrinking every day, your website needs to be visually appealing and subscribe to the latest trends on the internet. We will treat your website the same way businesses treat their physical stores, always clean and visually appealing, because we understand that customers will not trust you if your website looks outdated or ugly. Our goal is to keep your website adapted to the latest trends so that viewers continue to appreciate it over time.
Device-Responsive Website
Technological advancements have paved the way for people of all income brackets to access the internet on gadgets of different sizes. While the traditional computer setup with a monitor and a CPU still exists, there are now several other devices, including tablets and smartphones, that people use to browse. In fact, most people spend more on smaller gadgets than the usual desktops or laptops. As such, our web developers in Westlake will ensure that your website is able to adapt to any screen size and OS. This way, all of your website's images, functionalities, and elements will work equally well across all devices.
It only takes seconds to lose a potential customer. We understand the need for a website that loads quickly. To do this, we can provide dedicated hosting servers that suit your needs and preferences. We will only incorporate necessary media in your website to prevent clutter that can slow or even crash it. With our web development services in Westlake, rest easy knowing that we provide the best possible website experience for both you and your customers.
Ongoing, Data-Driven Development
Web development is a continuous process and does not stop when your website goes live. Our team of web developers in Westlake will continue to improve your website based on the data we collected both internally (from your site) as well as from other sources. This data will include information like what your customers want, how often do they purchase online, and how many hours they spend on the internet. From this, we update your marketing strategies and create new ones to further stir your company's growth.
Web Development Services in Ohio
At Advance Digital Media Services, we provide website development services to any company in any city or town in the United States or the Caribbean that we choose to work with. We have chosen to target specific markets and have therefore created a "target page" for those specific markets. One of the most important tasks we take on to rank your website for your targeted keywords is to create a "target page" that sells one service in one area, and then create high-quality backlinks to that specific page(s). So, we not only provide website development services to the City of Westlake, Ohio but to all of the cities listed below.
Top 10 reasons to do business with ADMS
We look forward to hearing from you today.
"*" indicates required fields
Schedule a call To see if we may be a fit for your online digital goals.