A Creative Web Design Company in Largo, FL
A website that captures a brand's essence is a strong, conversion-driven business tool.
It attracts high-quality leads by sending the right impression to a segmented audience, making it an important platform for achieving long-term leverage.
Complete from aesthetics down to functionality, our seasoned website designer in Largo, FL helps you create a business site that showcases an intuitive and adaptive landscape, which highlights the strengths of your brand. We don't just create out of need. We also create out of passion and a genuine concern for your brand's growth and continued success. That's Advanced Digital Media Services.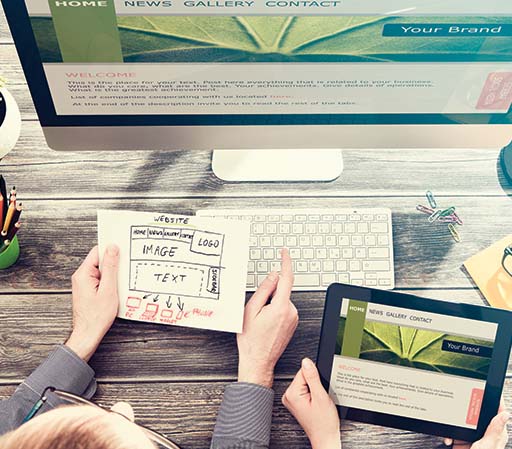 What Are the Advantages of Availing Our Web Design Services in Largo, FL?
Scaled Web Design Solutions
Finding the best web designer in Largo, FL can keep your brand's unique qualities afloat. Here at Advanced Digital Media Services, we don't believe in using shortcuts or preconceived ideas because we nurture every brand's distinctive features. We take the longer, more complex route so we can truly understand your brand before we initialize our design process.
From small-scale web designs to bigger enterprise solutions, our reliable team can help turn your business vision into a fully functional virtual space. More than providing concepts that are timely and cost-efficient, we inject your brand's voice into your page so you can send a clearer message to your audience. With us, you can scale your business through a custom-made site that's built around your business goals.
It only takes users a few seconds to decide if they are going to stay and navigate around a site or not, making web design a critical part of building your web presence. Our web design company in Largo, FL makes those seconds count by taking away visual clutter that can distract your audience and dissuade them from revisiting.
Mixing creativity with wise and timely design principles, our team helps you create an efficient, elegantly designed website that gives you both form and function. We do so by giving you a cohesive, free flowing, and professionally sound layout that speaks to your audience the way you want your brand to.
A website can never survive with pure aesthetics. Regardless of changes in the digital landscape, user experience is always key in gaining favorability not just from your segmented audience, but also from major search engines as well.
Our web design services in Largo, FL integrate functionality and easy navigation across all areas so you can provide the best navigating experience for your users. From readable fonts to a minimalistic layout, we make sure that your site is capable of cutting through communication barriers and emphasizing your brand's message.
Adaptive, SEO-Friendly Framework
Top-ranking sites live by algorithmic patterns, and that's one unchangeable fact that all webmasters embrace. Our web design company in Largo, FL stands out because of our commitment to provide the structure and framework major search engines are looking for.
Through our intelligent coding solutions and our SEO-friendly approach to web design, your site is guaranteed to gain better visibility on desktop and non-desktop devices.
Web Designing Services in Florida
At Advance Digital Media Services, we provide website designing services to any company in any city or town in the United States or the Florida that we choose to work with. We have chosen to target specific markets and have therefore created a "target page" for those specific markets. One of the most important tasks we take on to rank your website for your targeted keywords is to create a "target page" that sells one service in one area, and then create high-quality backlinks to that specific page(s). So, we not only provide website designing services to the City of Largo, Florida but to all of the cities listed below.
Top 10 reasons to do business with ADMS
We look forward to hearing from you today.
"*" indicates required fields
Schedule a call To see if we may be a fit for your online digital goals.