Trusted Web Development Company in Bradenton, FL
Build a business website that will let you keep up with the competitive business climate in Bradenton, FL.
Advanced Digital Media Services, Inc. is a reputable digital marketing company that specializes in developing websites to help businesses get ahead of their online presence. We have a team of competitive website developers in Bradenton, FL.
Some business owners fail to recognize that establishing an online presence is essential for a business to progress. In order to keep up with the economic progress of Bradenton, Florida, small to medium enterprises and large-scale businesses should get out of their way to establish their brand.
With our web development services in Bradenton, FL, we can guarantee that you'll be able to keep up with the competition and more!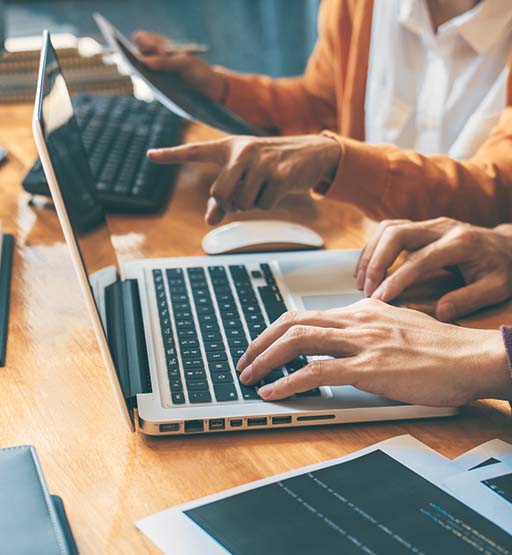 Here are the things we can do for you and your thriving business:
Nothing beats seamless navigation on a website. Our team knows that not everyone has the patience to wait for your website to load all the content and images. Apart from that, they will not stay when they find it hard to navigate around your menu. You should know that there are other websites that your potential clients can visit, so they will not waste time looking for whatever it is they're looking for.
Our skilled web developers in Bradenton, FL, will work together to make sure that everything works seamlessly from beginning to end. Our team also knows where to put everything and what information to highlight. Note that the impressions you leave with your web visitors last.
2. Additional Features and High-Quality Graphics
Every line of business requires different features on its website. Some would need a shopping cart feature while others wouldn't. Our team knows how to make a distinct website that your website visitors will remember.
We will also incorporate high-quality graphics and images. Our team doesn't use stock images that are repeatedly seen all over the web. We make sure that the images we use are still aligned with the colors of your brand.
At ADMS, we know how the online competition works. Believe us when we say that we can bring your business to Google's top search results through our experts in web development. That's what we did with our own business.
You may not know this, but how everything is placed on your website has a role to play. When you choose our web development company in Bradenton, FL, we will use the latest techniques in web development to maximize your website's potential. We will also increase your website's ranking and visibility.
4. Positive User Experience
The loading speed of your website and its overall appearance can make loyal customers out of your website visitors. A professionally developed and designed website will also increase your brand's credibility. This will make people trust your business more.
It will also show how you value your customers. When they visit your website, and they don't experience any drawbacks, there is a good chance that they will return. This is a factor that businesses should handle with the utmost care. One negative thing on your website can become a negative review online.
Our web development services in Bradenton, FL, are what you need to join and eventually beat the competition.
If you're hesitant to create a website, we're here to tell you that it has more pros than cons. Learn to take advantage of every tool available to build your brand. Contact us today!
Web Development Services in Florida
At Advance Digital Media Services, we provide website development services to any company in any city or town in the United States or the Caribbean that we choose to work with. We have chosen to target specific markets and have therefore created a "target page" for those specific markets. One of the most important tasks we take on to rank your website for your targeted keywords is to create a "target page" that sells one service in one area, and then create high-quality backlinks to that specific page(s). So, we not only provide website development services to the City of Bradenton, Florida but to all of the cities listed below.
Top 10 reasons to do business with ADMS
We look forward to hearing from you today.
"*" indicates required fields
Schedule a call To see if we may be a fit for your online digital goals.