The Best Web Developers in Pompano Beach, FL
Building a website for your business is not as easy as it may sound.
There are a lot of factors to be considered as well as steps to be taken. In addition, it also has to be maintained, so the work does not stop after building one.
For those reasons, web development should be one of your priorities if you want your business to have a strong online presence. Even the most successful businesses know how important web development is, and so should you.
While you are busy with the other aspects of your business, our web developers in Pompano Beach, FL, can be the ones to do all the necessary things for your website to stand out among your competitors.
At Advanced Digital Media Services, one of our main goals is to help businesses grow. We utilize the latest strategies in our full-stacked web development services to ensure your business's success.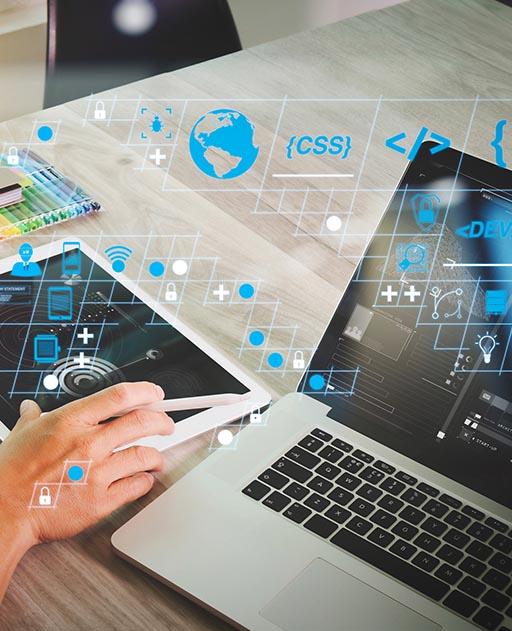 Here's What You Can Get From Our Web Development Services
One of the most serious problems that websites nowadays have to face is security issues. Hackers are everywhere, and they will easily hack a website that is not built with multiple layers of security.
Protecting your website from different threats is included in our web development services in Pompano Beach, FL. Our front-end and backend developers will protect your website from hackers by identifying the common front-end and backend security vulnerabilities and addressing them.
If you are to visit a website, you surely want it to have fast-loading pages. Admit it or not, everyone does not like websites that take too long to load, which is why speed optimization is a crucial part of web development.
Our team of website developers in Pompano Beach, FL, will take care of all the important factors to ensure that your website has an optimum speed. At ADMS, we want to make sure that the performance of our clients' websites is fast and hassle-free.
If you are looking for a web development company in Pompano Beach, FL, that can help you create a custom website based on your preference, we have a team of experts who can help you with that.
We have ready-made templates made by our team, which you can choose from, or you can also request a personalized design for your website. We want your website to look exactly how you want it to, so feel free to tell us all your ideas.
Assessment and Maintenance
Running a business is not an easy thing to do, let alone having to maintain a website and make continuous improvements on it at the same time. Let ADMS do all the necessary maintenance for you.
Having a website is like applying the law of supply and demand. If there are no improvements made, the number of potential customers will not increase. Moreover, search engines change their algorithms every day, and maintenance is your only way to keep up.
An exceptional website is your door to limitless inbound opportunities in the digital world, and investing in it will benefit your business more than you expect.
So, if you need help from experts, our web developers in Pompano Beach, FL, are here to provide high-quality web development services. Contact us now if you have any inquiries!
Web Development Services in Florida
At Advance Digital Media Services, we provide website development services to any company in any city or town in the United States or the Caribbean that we choose to work with. We have chosen to target specific markets and have therefore created a "target page" for those specific markets. One of the most important tasks we take on to rank your website for your targeted keywords is to create a "target page" that sells one service in one area, and then create high-quality backlinks to that specific page(s). So, we not only provide website development services to the City of Pompano Beach, Florida but to all of the cities listed below.
Top 10 reasons to do business with ADMS
We look forward to hearing from you today.
"*" indicates required fields
Schedule a call To see if we may be a fit for your online digital goals.